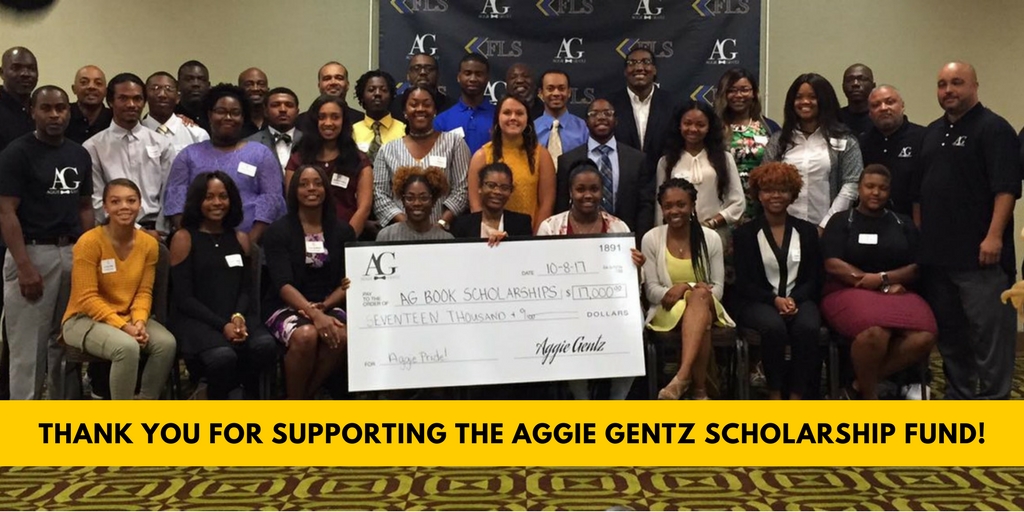 In 2016 we partnered with several Greek and athletic organizations and challenged each group to join our efforts to give back and raise money to support other fellow Aggies. Our goal was simple: to award scholarships to offset an often overlooked, but very significant cost for Aggies students - books and supplies.
While we had a phenomenal response, with $9000 raised, we wanted to make it clear that our efforts were
ongoing and open to everyone!
Homecoming 2017 you answered the call and we received an overwhelming amount of support that enabled us to raise $17,000 and award 28 Aggie students with book scholarships!
Please remember no gift is too small and your generosity allows us to continue supporting other fellow Aggies as they pursue their educational endeavors, with one less cost.
Thank you for your support!
#AggiePride
*All proceeds after expenses will be donated to scholarships.
*Aggie Gentz is a non–university affiliated alumni based organization. All donations will be managed and distributed by Aggie Gentz LLC and Barnes & Noble College Booksellers, Inc. Any donor or scholarship applicant acknowledges and understands Aggie Gentz does not represent NC A&T State University in any way nor do their
affiliated events or fundraising efforts imply, suggest or promote endorsement from NC A&T State University.